2017 Holiday Art & Jewelry Show
Friday - Sunday
December 1-3
About Baubles by EBaer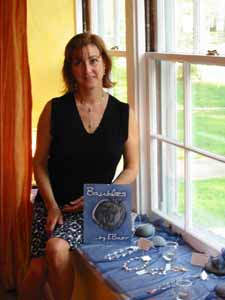 What started out as a nascent interest in making a couple of bracelets "just for fun" quickly flourished into a zealous, jewelry-making passion! One crimp and I felt I'd unleashed a stirring creative passion from deep within … ok, ok, so maybe that's a bit melodramatic. Let's just say that I've found my "creative groove". Designing and making jewelry gave me such a sense of creative pleasure that I quickly immersed myself in making more … and more. In fact, more than I could possibly wear! So, upon the prompting of friends and family who really liked what I was making, I decided to share my creations … at trunk shows, at in-home parties, and sometimes, right off my body!
Here you'll find a small sampling of my work. If you are interested in seeing my current selection, or in having a piece custom-made, please contact me. I personally design and make each piece, working with the highest caliber natural materials ... semi-precious gems cut into uniquely shaped delicate stones and chunky "rocks", a variety of freshwater pearls and beautifully hand-crafted Bali silver ... and pair them in an unexpected way. I would love to share my creations with you …
Back to Top
Back to Start Page